OmniLife API web services is a technology that helps financial advice wealth platforms to have their own life insurance comparison module, by connecting to and utilising Omnium's Life Insurance API.
The OmniLife API is an accurate and reliable life insurance comparison web service, powering almost all financial adviser wealth platform in Australia and many consumer comparison websites in Australia.
It enables financial adviser wealth technology companies to have the full OmniLife functionality set inside their own solution, so it can connect to their other financial advice modules and overall advice workflow tools.
The API is flexible enough for these platforms to develop their own interfaces and connect to the Omnium API, or simply connect their front-end software to Omnium front-end OmniLife software.
OmniLife SaaS is called to make a quote ~200,000 per month across all Omnium's distributors.
We offer two types of Life Insurance API integrations to suit the different needs of our clients. See the difference below:
Connecting to the UI API means you can transfer client and quote data from a CRM or company platform into the pre-existing OmniLife user interface UI. 
Once you have finished quoting in OmniLife, you are enabled to save the quote information including research reports from OmniLife back into the CRM or company platform. 
Utilise the already robust and user friendly UI from OmniLife.
Save time by transferring data to and from the quoting system, making for a seamless process.
This option best suits clients who are looking for the most cost effective way to integrate with OmniLife.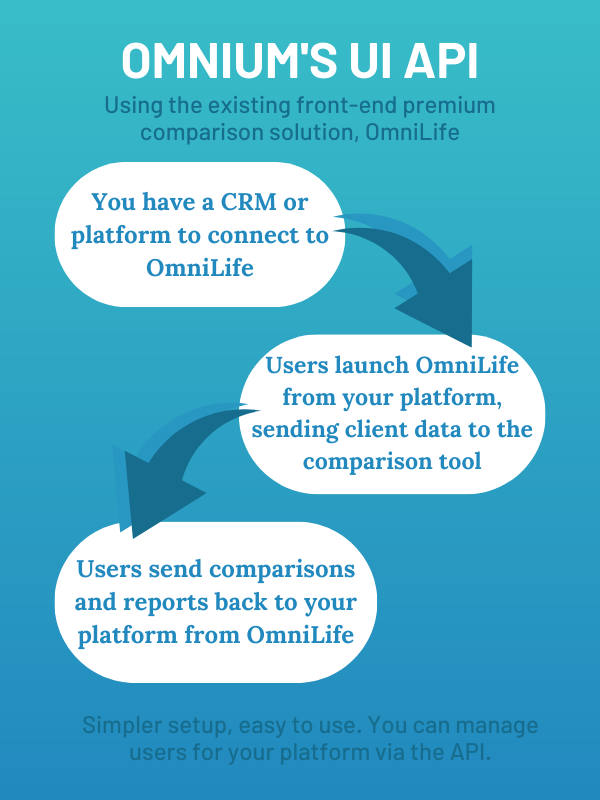 Exposure to the complete functionality of the OmniLife API. 
Connecting directly into the OmniLife API means you can display research and premium data in your own user interface or software solution. 
This option requires you to build your own front end or user-interface in order to accept inputs from users.
More flexibility and functionality, as you build your own UI and add in the features you want.
Higher price option for the full access plus your development costs to build your front-end solution.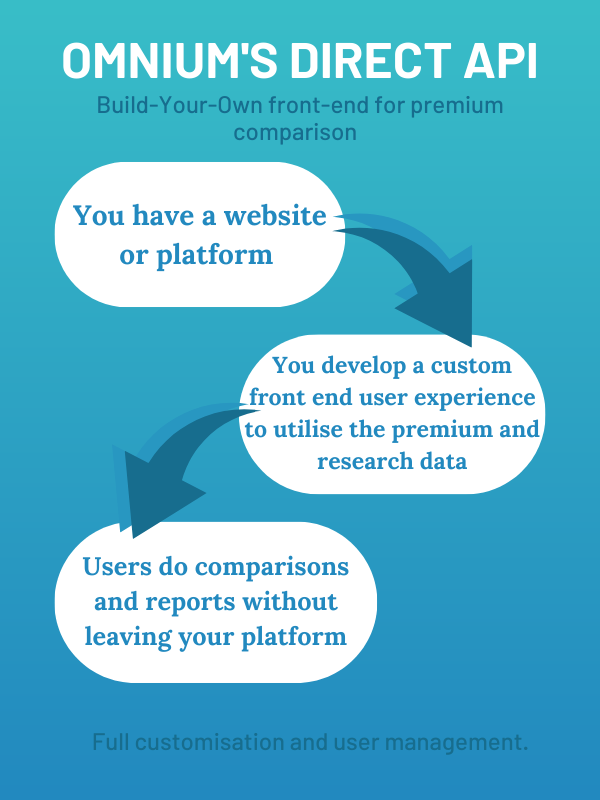 The API covers much more than what is listed above. If you want to see our API documentation in full and have free trial access to our test environment, please contact us.
Life insurance premiums and feature comparison data for all major insurance providers in Australia
Expired and current market product ratings, feature ratings & research commentary.
Allow transfer of client and quote data between OmniLife and CRM platforms, eliminating inefficiency and errors caused by double data entry and increasing efficiency.
Many features and enhancements included that you can use to create a comprehensive and seamless user experience
Omnium has the fastest and most reliable API for Life Insurance comparison data in Australia. 
Use it to display life insurance comparison data inside of your software or on your website. 
What our clients are saying…
Omnium is an integral partner for Asendium and for our users. The team have been a pleasure to work with and their software offers an exceptional solution that provides not only quoting capabilities, but extensive reporting and data transference to the product provider systems. Our users speak highly of Omnium and their great offering.